Heinrich Jones
Heinrich Jonas was born 6 Jan 1857 or 58 in Manitowoc County, Wisconsin.  In 1875 he was still living with his parents on the homestead.
Sometime before 1898, possibly as early as 1890/1891, he moved out to what was then known as Custer County, Montana.  By this time, he was known by the name of Henry Jones.
On 11 Sept 1898 he married Helen Ottgen in Forsyth, Custer County Montana.  Helen was married twice previously and had 2 children.  In 1900, Henry was living with his wife and her daughter in Township 6, Custer County, Montana.  The marriage lasted only a few years.  In May 1902, Henry was granted a divorce on the grounds of desertion.
In an article dated June 1901, he was thriving in Montana according to this article:
If persistence is one of the essentials to success then Henry Jonas who has charge of the N.P. pump house is entitled to a good slice of prosperity and what is more, eh will probably succeed in his latest adventure.  Mr. Jones besides being a mechanical genius is venturesome and enterprising and is always willing to back up his ideas to the extent of his capital and spare time.  The fact that there are millions of dollars worth of gold concealed in the sands of the Yellowstone is well known to everyone and many men have worked and schemed and slaved and spent money to separate the glittering particles from the rand (sic) with more or less success.  Two years ago, Mr. Jones set to work to solve the problem and while his first venture was a failure, it served to give him experience and taught him what to avoid in the future.  He constructed a small dredge after the pattern usually adopted in this method of mining and operated it with a gasolene (sic) engine.  The dredge was moored in the river and scooped up sand and gravel from the bottom.  This was washed and sifted and the gold caught on carpets. The dredge was operated long enough to demonstrate that dredging was practicable in the Yellowstone and then he dismantled the barge and laid his plans for a larger and better dredge.  He has started work on this and in odd moments has gotten his timbers in readiness for the hull.  The new dredge will probably be completed some time this summer and be in readiness for a season's work next spring.  The hull is 25×30 feet and constructed of the heaviest timbers reinforced to stand a tremendous strain.  The buckets that dig up the sand are on a continuous belt and lifts the slush into an elevator where it is worked over and gold removed.  The new dredge will be prepared to hand enough sand to make it a paying proposition and as the builder is showing his faith in his ability to wrest a fortune fro the swift flowing Yellowstone by going it alone, he is certainly deserving the highest degree of success.
By 1910, Custer county was redistricted and we find Henry now living in Forsythe School District, Rosebud County Montana.   He was divorced and lived here the remainder of his life.  He died 18 November 1914. The cause of death was listed as suicide.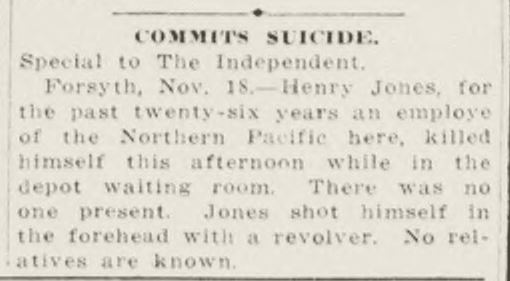 Excerpt from Helena Independent Record, Helena, Montana, 19 Nov 1914
Did the man who was once perceived as a successful man, have thoughts get so negative, about his circumstances or even about himself, they he couldn't find a reason to live? Was he lonely? Did he miss his family? No one knew he had any. Questions we will never have answers to. Bills and notes in his estate indicate his remains were brought back to Wausau.  His brother-in-law, Adlor Londo, purchased a mausoleum plate for Pine Grove Cemetery in Wausau, Wisconsin for $6.05.